While it is clear racism has forever been alive and well in the United States—and in the entire world—the real question is: what are we, as business owners and entrepreneurs, going to do about it? 
The wonderful thing about building and leading a small business is the freedom to take a stand, do what's right, and lead by example. Here are some ways to ensure your business is designed to not only be anti-racist, but fight racism.
1. Acknowledge & Affirm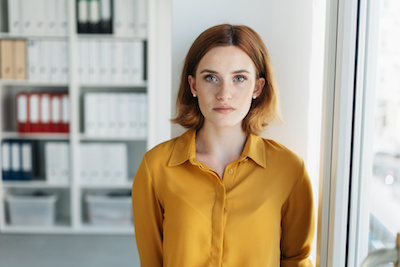 No matter how qualified you believe you are, to lead your businesses in the fight against racism, the important thing is that you begin by acknowledging it's real and needs to be changed. Stand strong in calling out and unequivocally naming white supremacy for what it is.

It's also the responsibility of a leader to ensure that your employees, business partners, and fellow leaders know they can count on you to prioritize their personhood, protection, and safety. You can do this by holding space for meaningful discussions around what's happening nationally and globally. Not everyone may feel comfortable to talk but the important thing is that they have the chance to do so, in a supportive and safe environment.
Kyana Wheeler, a strategist for Seattle's Race and Social Justice Initiative who also trains corporate and nonprofit leaders, knows the conversations can be a lot. "Start where you are, and do what you can," she says, invoking tennis great and activist Arthur Ashe. For white people unaccustomed to addressing race, it will likely be uncomfortable, and that's okay. "Anti-racism is a journey," she says. "Justice is the goal."- source
2. Be Deliberate & Define Your Values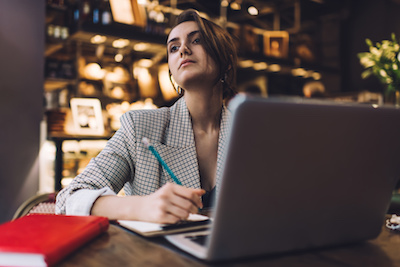 This is not just a case of saying what your company does or wants to do, but that the company values are demonstrated in the everyday actions of those in leadership, in the company's human resources practices, and in it's marketing.

It may be time to revisit or create your company value statement- which include the priorities and values that define the backbone of a company. By incorporating inclusivity and anti-racism into your company values, you're helping to center future conversations around a person's humanness over their race.
Deliberately and consciously choosing to build anti-racism and inclusivity into the company—beyond company policies—and into supporting people as individuals instead of lumping them into groups of race is a great place to start.
3. Take Meaningful, Inclusive Action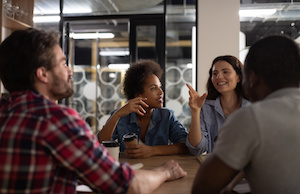 There's typically a lot of talk around "diversity" in the workplace. The problem with this is that it tends to be centered around checked-boxes and targeted numbers. "Inclusivity means removing barriers that keep all employees from participating equally in the workplace…making sure that their voices are heard, valued, and recognized accordingly." –source

This could mean transparency around salaries and benefits packages, ongoing mentorship opportunities, or collaborating with folks outside of your typical network. The goal here is to promote a world that allows for everyone to feel comfortable, safe, and as though their voice and presence matters.
4. Support Change Makers

Whether it's through making financial contributions to organizations that have got their feet on the ground; organizing company-wide volunteer days; offering time off to attend events, protests, or educational classes; or inviting in leaders of color to host meaningful discussions, amplifying black and brown voices—you can't go wrong with simply starting, from wherever you are. The key is to do your research and then begin.

Lead by example and show your employees that the importance of anti-racism is not just company policies but something that the business is actively contributing to, in order to create change outside of the office as well.

5. Remain Diligent, Keep Going
We've got a long way to go. Racism is deeply and systemically embedded into the history and culture of the United States, and other parts of the world. We can't afford to only act when the cyclical "tipping points" occur every now and then, but we must remain steadfast in our commitment to creating change and abolishing racism. We're fighting centuries and generations of embedded racism. This is why your leadership matters more than ever. There will always be more to do.
Holding yourself accountable is key in creating change. And public accountability on behalf of the company is just as critical. This could look like using the company's public-facing platforms, like social media or event attendance, to regularly talk about racial inequality, injustices, and what others can do to work on these things.

Please note that public accountability does NOT look like, "Look how amazing we are at not being racist." It looks more like publicly taking a stand, making company values public on your website, and providing anti-racism resources both internally and externally. This is how you can stick to your values and goals, even after news has died down about the latest injustice.
Yes, it can be overwhelming to know where and how to start. Facing the discomfort that can bubble up from time to time can also feel like a lot to work through. But the important thing is that you're trying. Keep going, keep listening, remain open to the fact that you might get it wrong sometimes but you're willing to do better the next time. The fight against racism in the workplace is, of course, not a "one and done" deal. The journey will be ongoing. What's important is that you keep going.