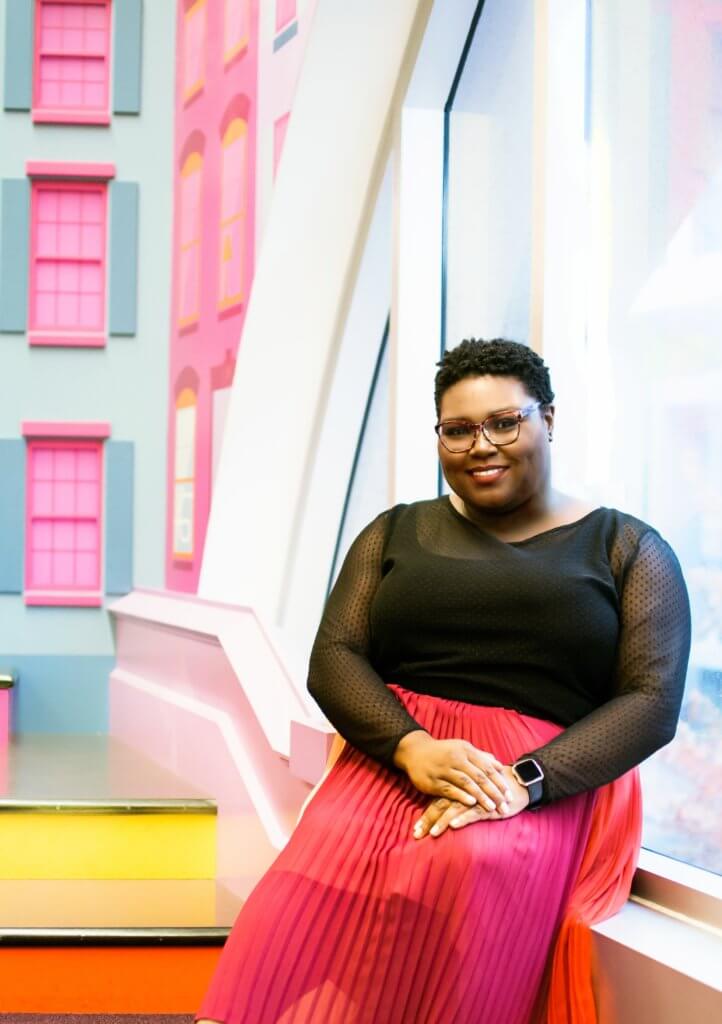 I'm Rhodesia,
[roh-DEESH-uh] Yes, like the country.
I am a designer, web developer, & closeted nerd.
I'm also an Aquarius, meaning I'm analytical, creative, and collaborative.
I live in Boston with my wife Katie and our furry feline son Tobias. I spend most of my time roaming the aisles of Michaels looking for my newest DIY project. I also love scoping out antique shops for random nick-nacks to decorate our apartment with. My weekends consist of playing board games, watching movies (Disney+ anyone?!), and staying up way too late reading crime and fantasy books.
I spent the majority of my career working for international corporate marketing teams, which was awesome because I learned a lot about marketing. This was a great match for my design skills. But, I always had dreams of starting my own business…the timing just never felt right. That all changed in 2017 when I beat cancer and lost several loved ones within a few months of each other. It was a huge wake-up call and made me realize how short and precious life really is. The timing finally felt right, because if not then- when? I decided to stop letting my fears hold me back, because I wanted to actually make a difference in other people's lives. I didn't want to keep using my talents to help large corporations grow bigger. That's when I started Rhodesia J Designs. Since then, I've been spending my time creating a variety of designs for fellow entrepreneurs. My goal is to help their businesses stand out from the crowd so that they can reach their dreams as well!.
I can't wait to learn more about you and what makes your business tick.
1. My ideal vacation is:
a. Tropical destination
b. Adventure
c. Cruise
d. Exploring a city
2. My typical work outfit is:
a. Jeans and a t-shirt
b. Leggings and an oversized sweater
c. A skirt and a button-up shirt
d. Sweatpants and a hoodie
3. My favorite weekend activity is:
a. Hanging out at a game board cafe
b. Going to the movies
c. Shopping for clothes and make up
d. Binge watching Netflix
4. My favorite way to relax is:
a. Getting caught up in a book
b. Doing DIY face and hair masks
c. Watching a movie
d. Napping with my weighted blanket
5. I'd love to have dinner with:
a. Michelle Obama!
b. Oprah Winfrey
c. Frida Kahlo
d. Stacy Abrams
6. My favorite board game is:
a. Scrabble
b. Ticket to Ride
c. Clue
d. Settlers of Catan
7. My favorite Girl Scout cookie is:
a. Tagalongs
b. Thin Mints
c. Samoas
d. Do-si-dos
8. My favorite recipe is:
a. Slow Cooker Granola
b. Pressure Cooker Ribs
c. Lemon Couscous
d. Mac and Cheese
9. What makes me laugh the most is:
a. My mom's license picture
b. Tobias parkour-ing around the house
c. Episodes of The Golden Girls
d. Katie's dad jokes
10. My favorite season is:
a. Spring
b. Summer
c. Autumn
d. Winter
5 Things You Didn't Know About Me
1. I created and run a body-positive book club. We read books about body and fat positivity and loving yourself no matter what.
2. I love art museums. I'd have to say the Art Institute of Chicago is my favorite, but I can't wait to visit the Louvre?
3. My Myers-Briggs personality type is INTJ (introverted, intuitive, thinking, and judging). These traits combined make me a really good at strategy and analytics.
4. I can't keep a plant alive for the life of me. That's definitely Katie's job.
5. I love refinishing furniture and secretly wish I could be on Flea Market Flip.
Let's bring your business to the next level